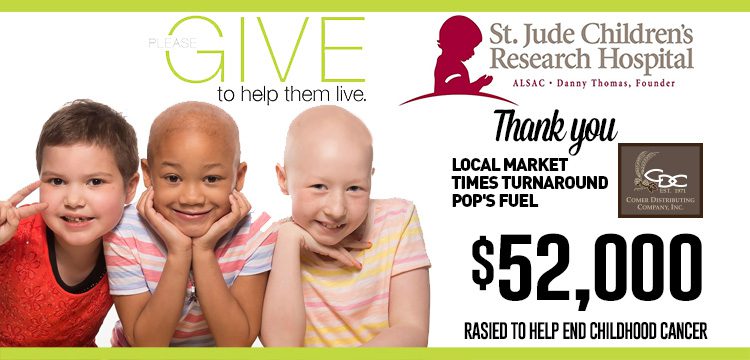 Children are our future, and every child saved or given a better life is a wonderful and beautiful thing. St. Jude Children's Research Hospital leads the way the world understands and treats childhood cancer and other life threatening diseases, and we are proud to support them in our own small way.
This year, with the help of our amazing retailers we raised a record $52,000 for St. Jude.  A huge thanks to Local Market who outdid themselves and raised an extraordinary $41,325!
Top Retailers 2021:
Local Market – $41,325
Times Turnaround – $1,669
Pop's Fuel – $496
Other notable contributors were HOBO's, Friendly Billiards, and Johny's Fireworks.
Thank you again to every one that helped raise money this year. It's more than a donation; it's a potentially life-saving gift.
Make a donation to end childhood cancer