We pride ourselves on having some of the best craft brands in the United States. We love and cherish each and every one. Recently, we signed a distribution agreement with a big one, and it's finally here and flying off the floor. We are now proudly distributing Boulevard Brewing Company!
Boulevard, located in Kansas City, is the largest specialty brewer in the Midwest. Founded in 1989, Boulevard's goal is the produce fresh, flavorful beers using the finest traditional ingredients and the best of both old and new brewing techniques. See the bottom of this post for some descriptions of their great beers – and links to find them!
The Boulevard story begins in 1988, when founder John McDonald started construction of the brewery in a turn-of-the-century brick building on Kansas City's historic Southwest Boulevard. A vintage Bavarian brewhouse was installed, and the first batches of beer were produced in the fall of 1989. That November, the first keg of Boulevard Pale Ale was delivered—in the back of John's pickup truck—to a restaurant just a few blocks away.
In 2006, a major expansion adjacent to the original brewery raised Boulevard's brewing capacity to approximately 600,000 barrels per year—a sizable increase from the 6,000 barrels contemplated in John's original business plan. The new brewing and packaging facility is a model of sustainable urban architecture and engineering; a three-story, 70,000 square foot building housing a new, state-of-the-art 150-barrel brewhouse, packaging lines, administrative offices, and hospitality rooms.
Click the circle badges to find the beer in a store near you!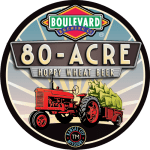 With roots in two of today's most popular brewing styles, 80-Acre Hoppy Wheat Beer is the result of careful cultivation by our brewers and cellarmen. Their efforts to craft a hybrid yielded a bumper crop of flavor; a delightfully distinctive ale with the aroma of an IPA and the refreshing taste of a wheat beer. Find it!
Availability: Year-Round IBUs: 20 ABV: 5.5%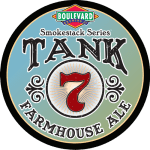 Most breweries have at least one piece of equipment that's just a bit persnickity. At Boulevard they have fermenter number seven, the black sheep of their cellar family. When their brewers were experimenting with variations on a traditional Belgian-style farmhouse ale, the perfect combination of elements came together in that very vessel. Beginning with a big surge of fruity aromatics and grapefruit-hoppy notes, the flavor of this complex, straw-colored ale tapers off to a peppery, dry finish. Find it!
Availability: Year-Round IBUs: 38 ABV: 8.5%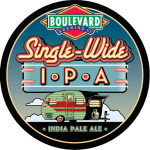 Boulevard Single-Wide I.P.A. is Boulevard's take on a style that originated in 18th century Great Britain. This American version—inspired by their Smokestack Series Double-Wide I.P.A.—boasts a heady combination of six varieties of hops, some of which were employed for dry-hopping.  Find it!
Availability: Year-Round IBUs: 57 ABV: 5.7%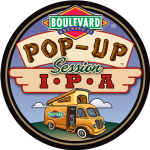 Boulevard Pop-Up Session I.P.A. joins its big brothers Single-Wide and Double-Wide in our trailer park of hop-centric beers. This "session" model is built for frequent excursions, with a very drinkable character and relatively low bitterness tucked behind a big, fruity hop aroma. Find it!
Availability: Year-Round IBUs: 40.5 ABV: 4.3%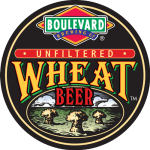 Boulevard Unfiltered Wheat Beer is a lively, refreshing ale with a natural citrusy flavor and distinctive cloudy appearance. This easy drinking American-style wheat beer is Boulevard's most popular offering, and the best-selling craft beer in the Midwest. Find it!
Availability: Year-Round IBUs: 14 ABV: 4.4%
For more information on Boulevard and their beers, head to www.boulevard.com.